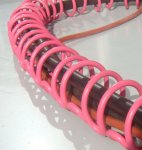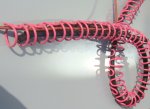 Guide wire or spiral path entirely of plastic.
Reference
: GC35
Inside diameter 1
: 35 mm
Wire diameter
: 5 mm
Weight
: 100 g



Insert through the top by removing the coils and protectand easily store electric cables tires or optical fibers.



Round . Available in several colors: black, yellow , white, gray , red.



Length up to 50 linear meters.



The ends are locked to prevent the cables to be extracted.



A new dimension is now available : 28 mm internal diameter.